GT RADIAL HAS BIG PLANS FOR MID-AM SHOW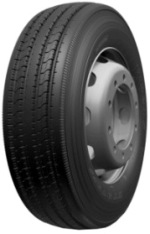 Giti Tire USA plans to make a splash at next months Mid-America Trucking Show in Louisville, showing off its collection of EPA SmartWay verified radial truck tires.
The Mid-America Trucking Show will run Mar. 22-24 at the Kentucky Fair and Exposition Center.
Giti Tire will be showing its SmartWay-verified GT Radial GT979 FS trailer tire, GT Radial GSL213 FS steer tire and GT669+ FS drive tire.
"This is great news for our customers because trailer tires have a significant impact on fuel economy," said William Estupinan, Giti Tire technical director for the Americas. On a tractor-trailer combination, he said, the steer tires contribute 15%-20% of the tires' overall contribution to fuel economy, drive tires 30%-40%, and trailer tires about 40%-50%.