SHEER ICE . . . SUPER SLICK SLALOM . . . NO PROBLEM!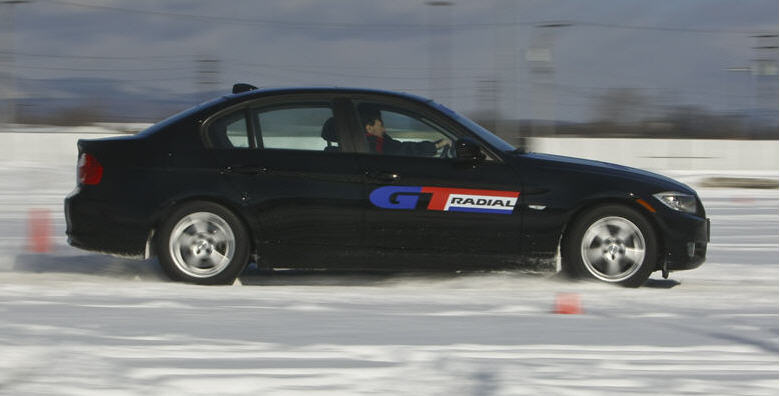 The temperatures were bone chilling but the reviews were glowing as a group of GT Radial dealers came to Quebec City last February to drive on GT Radial Champiro IcePro premium studdable winter tires.
The first driving event was as challenging as it gets — make a Ford Focus accelerate, turn and stop on sheer ice at the Expocite Ice Rink. Then, it was out into the blustery cold where dealers manuevered RAV4 vehicles mounted with studded Champiro IcePro tires on a slalom course that was more ice than snow. They also drove BMW 325 sedans on another challenging course with IcePro tires without the studs (Champiro IcePro tires can be used with or without studs, depending on driver preference and local regulations regarding the use of studs).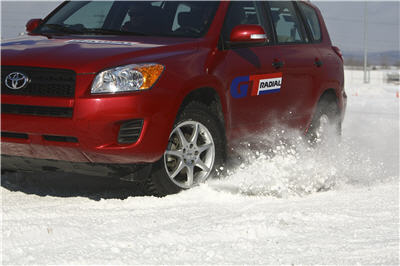 Here's what the dealers had to say:
"I was quite impressed with how the IcePro tires performed on the ice. Black ice is a big issue in Calgary for four months out of the year,
and based on my experience here, the IcePro is definitely the tire of choice."
– Kelley Hill, Country Tirecraft in Calgary
"We did stopping, accelerating and handling maneuvers on the ice rink with the GT Radial tire and a well-known competitor's winter tire. There was no comparison on the pure ice. In handling, stop and starting, I had complete confidence in the GT Radial. Way more traction . . . The GT Radial tires were always consistent."
– Ken Hickens, RTD Edmonton
"Driving the BMW on the outside course, I felt a lot more confident and more comfortable on the GT Radial tires compared to the competitive tire we drove on."
– Josh Dickinson, RTD Atlantic
"Since dealers play such a critical role in educating consumers about tires, we wanted our top distributors and dealers to experience first-hand how the Champiro IcePro performs in the most severe of conditions," says Lou Monico, sales director for GITI Tire in Canada.
"Based on their feedback, I think they will be selling the GT Radial winter tire line-up with a lot of confidence this season."